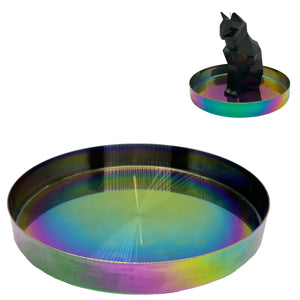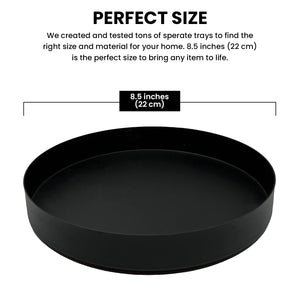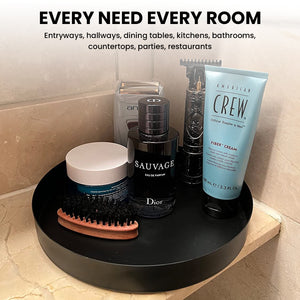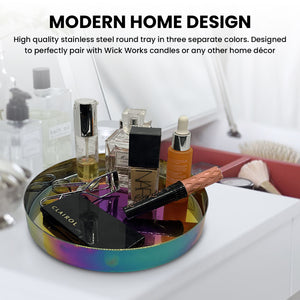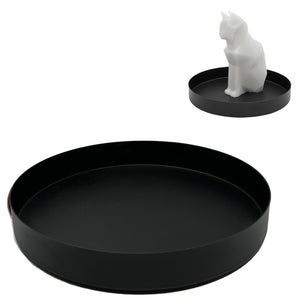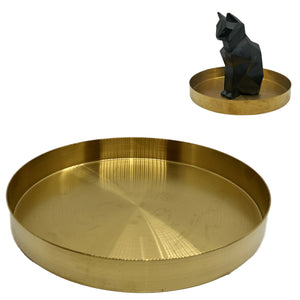 8.5 inch Stainless Steel Decorative Round Tray
MODERN HOME DESIGN: High Quality Stainless Steel Round Tray in three separate colors. Designed to perfectly pair with Wick Works Candles or any other Home Décor

PERFECT SIZE: We created and tested tons of sperate trays to find the right size and material for your home. 8.5 inches (22 cm) is the perfect size to bring any item to life.

PERFECT MATERIAL: Stainless steel is the perfect material to let what you have stand out, as well as, highly durable. Ceramic just doesn't have the saying power of our Stainless Steel Plates.

EVERY NEED EVERY ROOM: Entryways, hallways, dining tables, kitchens, bathrooms, countertops, parties, restaurants.

PERFECT GIFT: Gorgeous gift for friends, family members, lovers, colleagues on parties, Valentine's, Mothers Day, housewarming, Christmas and other occasions.
Exactly what I was looking for
Its perfect for my bathroom vanity to display some of my perfumes.
Stainless steel tray
This is a nice sized stainless steel tray! As you can see in my pic I use mine on my table for decor. It looks so pretty! I definitely recommend this product!
Love this tray
The media could not be loaded.










I use this as a humidity tray for my house plants and it looks classy and beautiful. The gold toned metal makes a nice accent piece, no matter what youre using it for. The tray itself is durable, strong and leak proof. It makes an excellent accent for my plants that can be used for so many things. Definitely recommend as its good quality.
A versitile visually striking tray
I was pretty surprised how much I liked this tray. The rainbow color effect is very nice.The tray is well made and decently large.Very versitile.Very Giftable.I'd recommend this.
A great tray
Wick Works | 8.5 inch Stainless Steel Decorative Round Tray | Metal Plate for Home Dcor is a great tray for your small decorative items. It is wonderful for candles, small items, or even cups.I am using this to hold disposable cups on our water cooler. It keeps them corralled and safe from being knocked off. It looks stylish and smart.... helping inexpensive plastic cups look less mundane and more special. It has good weight, a tall lip around the perimeter, and a beautiful gold finish.